Background
Till about two decades ago, Intergraph's PDS (Intergraph has been acquired by Hexagon) was the market leader amongst its contemporaries in Plant design. Around the same time, Intergraph (Hexagon acquired Intergraph) went on to develop a more modern, collaborative, plant design software Smart 3D system which has been in the market ever since. A large percentage of global onshore and offshore projects today are being executed in the latest S3D system.  Surprisingly, many onshore process and power plants to this date have their legacy plant data in the older PDS format.
Challenges Faced by These Plant Owners
Projects in the last 10 years have transitioned from PDS to S3D as S3D is a far more modern and advanced designing system with all its latest features for collaborative design. For this reason, no EPC in the global market is offering plant design in the older PDS system, nor have the infrastructure or skilled manpower with PDS knowledge.
The PDS expertise is fast dwindling, with most experts, at the end of their careers.
Hexagon has stopped all support for PDS
If these older plants need to be revamped or As-Built it would make sense to migrate them to the latest S3D system.
Migration from PDS to S3D – Challenges and Methodologies
PDS was built on the microstation engine and S3D is a whole new technology built on VB.NET. The challenge mainly is when you have to migrate the legacy PDS data to the latest S3D format, there is no "out of the box" solution or a straightforward migration solution available. The following are some commonly used methodologies :
Quite a few service providers rely on "manual remodelling" to migrate the PDS data to S3D.
A few service providers carry out a laser scanning of the existing plant , thereby capturing the as-built information in a "point cloud" format and then using the point cloud data as a reference to manually remodel in S3D.
Another method is using the Smart Interop Publisher – The Intergraph Smart Interop Publisher application is used to convert or translate a Smart Model format (.zvf/.mdb2) used to create Smart Interop Objects (SIOs). SIOs in Smart 3D are lightweight, fit-for-purpose objects that also support As-Built workflows and synchronize with SDx. You can rename SIOs, move them in a system hierarchy, and modify selected SIO properties in Smart 3D. You can also attach Smart Models as read-only reference 3D data in Smart 3D. The conversion method using Smart Interop Publisher and SIOs provides a faster, lighter solution for PDS data used in Smart 3D. The SIOs implemented with a common schema are not fully functional. You can incrementally convert different sections in a model for design reuse. Portions of the same model can be referenced from different Smart 3D models. This conversion method can be used for model reviews and walk-throughs during various design and construction phases.
The final method is to use a combination of manual remodelling and Automation routines. This route is faster , more reliable and fool proof.
While all the above approaches have their plusses and minuses, the method to use depends on your specific modelling requirements, the nature of the input data and the budget and schedule within which the project needs to be completed.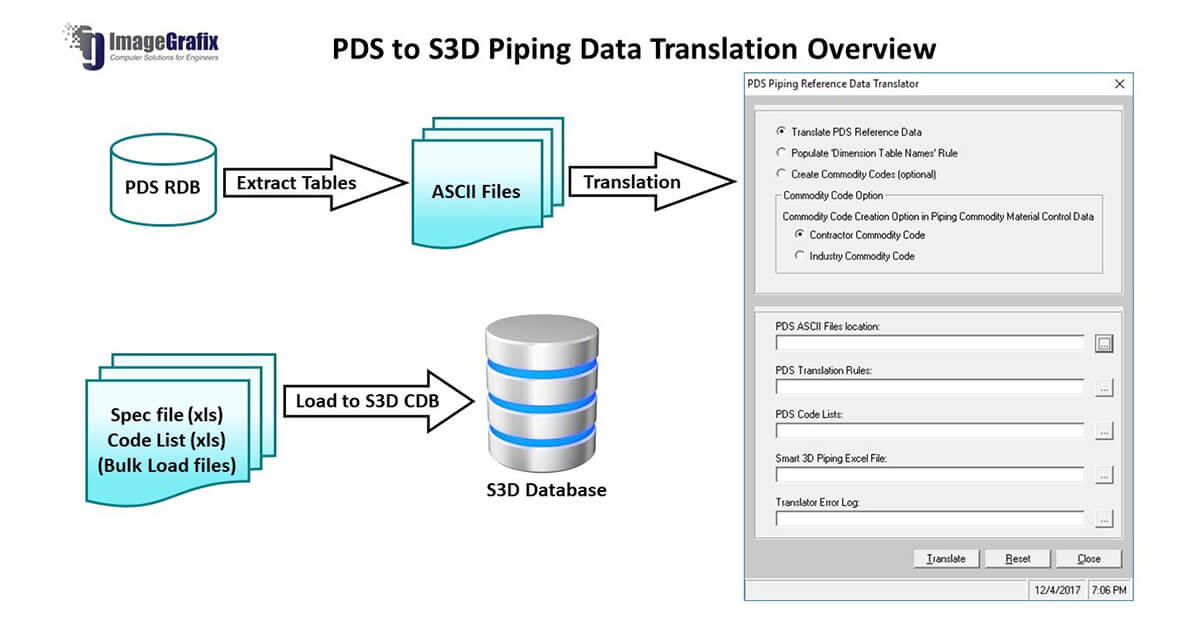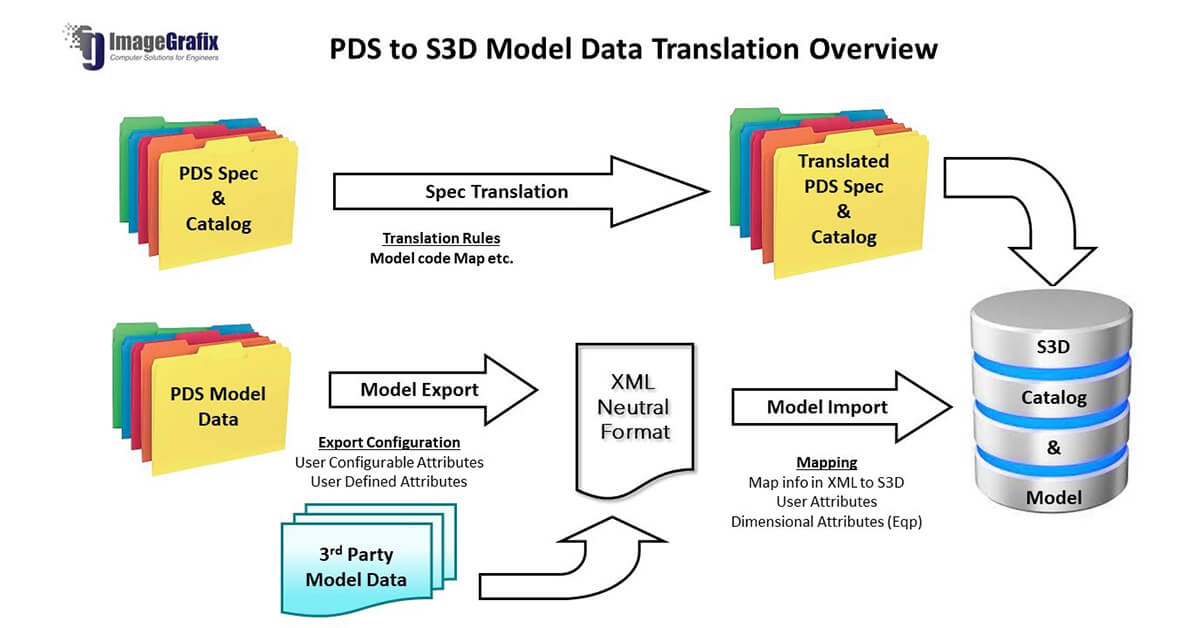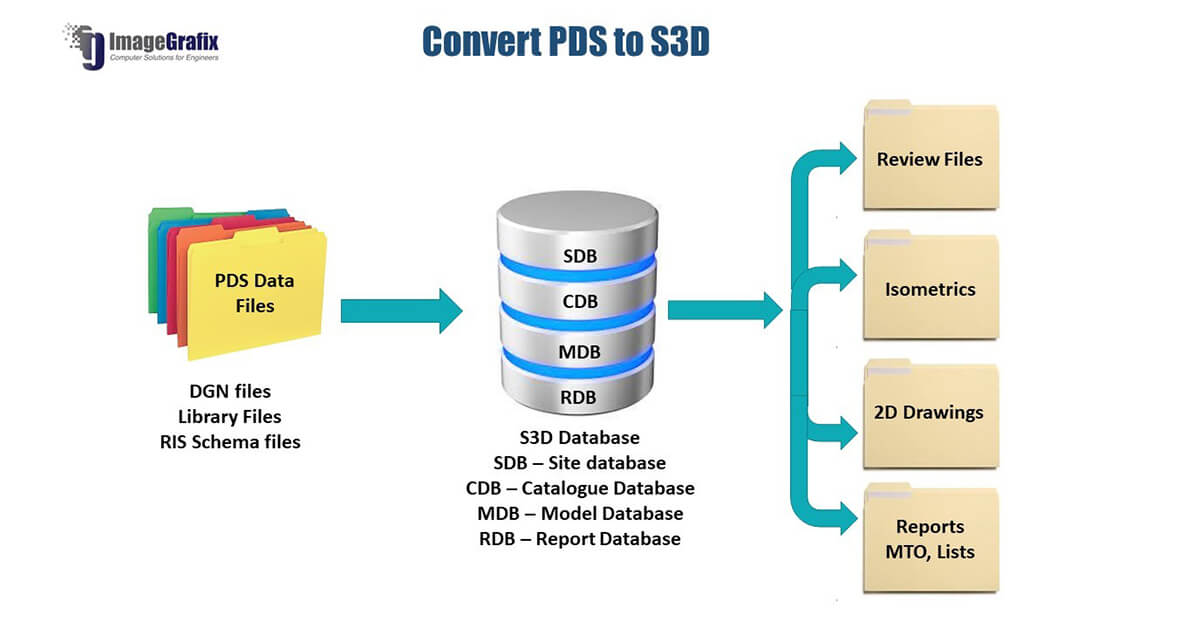 ImageGrafix Software Solutions, a Hexagon partner company,  headquartered in  UAE and having offices in Kuwait, Qatar, Saudi and India offer these PDS to S3D migration services. They use a combination of manual remodelling and automation for the migration. With a trained team of industry experienced engineers, they ensure proper migration along with a well-defined QA/QC system which ensures that the migration is quality compliant and the end customer data is intact.
Why ImageGrafix
They are Hexagon partners and are closely associated with their products
They have the expertise and skill sets in S3D and have application engineers who are from the industry and have experience working on real-life project scenarios
Additionally, they have programmers and developers in their roll, who work in tandem with the application engineers to identify areas where automation routines can be developed.
They have been in this market catering to customers in process and power and oil and gas for over 20 years and are well aware of the customer needs and expectations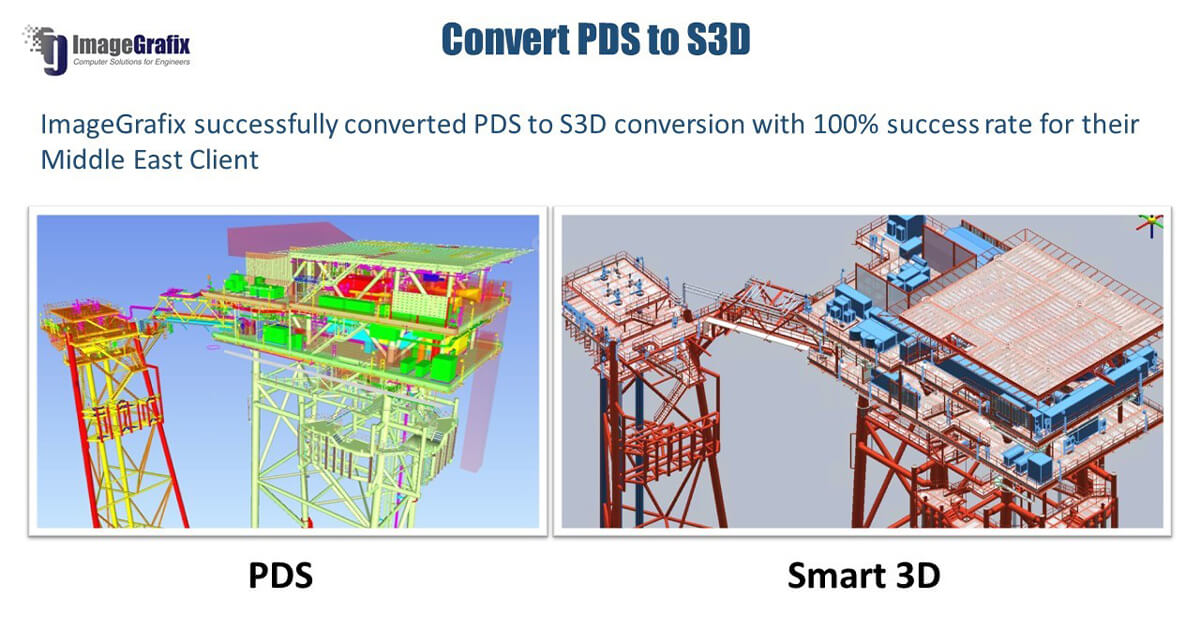 Rengan Jayakrishnan (JK) is Strategic Advisor – Business Development and Sales to ImageGrafix Digital Engineering team. JK is passionate about mentoring and advising companies / start-ups with target prospects in B2B oil / energy/ process and power industry to evolve a go-to-market strategy.
He has a rich experience of 30+ years selling software solutions & services to global customers, and he has been equally involved in direct sales as well as selling through channel partners. His global sales exposure has helped him forge strong connections with key influencers/partners/customers in the industry who are his champions.
We are confident that ImageGrafix will immensely benefit with his mentoring, advice and network, in scaling our consulting services business globally.